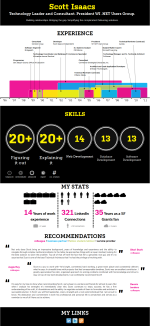 The other day I signed up for Vizualize.me. Once I got over the fact that they misspelled "visualize", it looks like a pretty nifty little service. They make a graphical resume for you, like the one to the right. I'd always wanted my very own personal infographic, and now I have one.
If you are a LinkedIn member, they can optionally pull your work history, education, recommendations, skills, etc. from there so you don't have to enter all of that again. This was the choice I made and it had the additional benefit of making me update my LinkedIn profile so that there was good data to pull.
They have a number of different themes available, and you can customize colors and fonts, too. You can include a bunch of different data, such as work experience, education, LinkedIn recommendations and various personal statistics.
Do you have a visual resume to share?